The Markov Bases Database
G48g_bin
The binary graphical model of G48.
This model has a representation as a four-cycle model; see C4-02-02-02-04.

It is a hierarchical model of 5 variables. The dimension of the model is 14.The cardinality of the statespace is 32.
Properties of the Markov basis
| | |
| --- | --- |
| Markov degree | 4 |
| minimal size | 200 |
The model has the following properties:
All variables are binary.
It is a graphical model.
The semigroup is normal.
The following properties of the model are unknown:
The minimal Markov basis may be unique.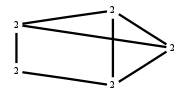 ---
Wrong or missing information? Write us an email.
---